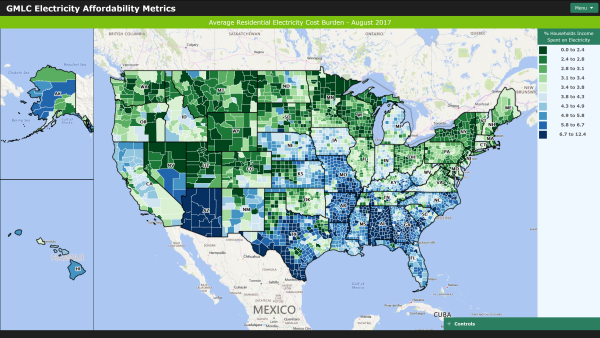 With a few clicks of a mouse, it's now easy to see the differences across the country when it comes to the cost and affordability of electricity. Users can sort and compare nearly 100 residential customer affordability metrics or variables and also zoom in to get information by individual counties. 
This color-coded, visual representation with an easy-to-use interface was developed by researchers at PNNL. The tool is based on publicly available household income information from census data combined with utility revenue and customer count information from the federal Energy Information Agency. Together they determine a customer "cost burden" for electricity. 
"While the raw data exists, we've organized it and created a simple, intuitive view into the data that should be easier for stakeholders to interpret," said PNNL's Michael Kintner-Meyer, who leads the Foundational Metrics Analysis project for the Grid Modernization Laboratory Consortium. 
The Grid Modernization Laboratory Consortium was established as a strategic partnership between DOE and the national laboratories to bring together leading experts, technologies, and resources to collaborate on the goal of modernizing the nation's grid. GMLC is part of DOE's Grid Modernization Initiative, which works across the U.S. Department of Energy to create the modern grid of the future.
As a GMLC project, the Electricity Affordability Metrics web application is a dashboard concept that calculates residential electricity affordability based on the cost of the electricity and average income in a specific state or county. One view shows electricity affordability as a threshold percentage of income that goes to paying for electricity.   
"It's not an analytical tool or commentary on the cost of electricity, but it can provide perspective for regulatory bodies, such as public utility commissions, which determine cost recovery for utilities and approve electricity rates," said Dave Anderson, a PNNL senior economist who developed the tool with software developer Matt Sturtevant. 
The metrics provided by the tool can inform stakeholders and decision makers about baseline customer cost burden conditions and provide context for costs imposed by the technology investments to achieve grid modernization and reliable, resilient electricity service.  
As a GMLC project, the tool focuses specifically on residential electricity services provided via the power grid. By design, it does not take into account heating or other utility services provided by natural gas or heating oil. It presents residential electric customer averages. Similar information for commercial and industrial customers will be added to the tool in the future.
One view presents affordability in terms of a threshold percentage of how much household income goes to electricity. The research team found that affordability studies in different parts of the country indicate that typical thresholds for household expenditures on electricity range between three and six percent. The tool will also show what percentage of households are facing electricity costs that exceed one of several alternative thresholds. 
The tool covers space and time, meaning that it not only focuses on a geographic area but illustrates monthly conditions for 2016 and 2017. The map also displays the monthly average electricity cost per kilowatt-hour and the average customer's monthly electricity cost view, along with several other views. 
PNNL researchers are working with stakeholders to refine the tool and intend to add to it with each annual release of census data, to provide a clearer picture of electricity affordability as other researchers focus on the technology aspects of grid modernization.
Related Projects
Foundational Metrics Analysis

This project will establish a methodology of developing and using multiple metrics for assessing